Profile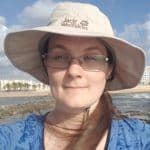 Yo Yehudi
Trying to work but it's really hard to type with a cat on my lap
My CV
Education:

I have a BSc (Hons) in Computing and IT. It actually took me 6 or 7 years to get it, and I was working with universities before I'd even finished – I worked full time and got my degree through the Open University.

Qualifications:

As above – BSc in Computing! I did a web applications development certificate before that, and I've done a few short courses in biology. Oh, wait – I also have a first aid at work certificate!

Work History:

Previously I've worked at Capital One, K-Now (a spin-out company from the University of Sheffield), and prior to that, I work in tech support for a large bank.

Current Job:
About Me:

Proud geek. Born in New Zealand, lived in Israel and the USA, but now the UK. I relax by reading a good book and I always eat my veggies.

Read more

Heya! I'm Yo Yehudi. I work as a software engineer in the Department of Genetics in Cambridge University, make websites to help scientists gather the information they need for their experiments and research. It's kind of like being a roadie for science – I sit behind the scenes and help to make the science go!

When I'm not working, I like to cycle, run, knit, crochet, and read sci-fi or fantasy books. Sci fi in particular is awesome, because it can inspire us to reach for the stars and beyond. Who knows what might be real in a few years that's just a story now?

I was born in New Zealand, but I move to also Israel when I was nine, so I can speak Hebrew. Fun fact about Hebrew is that we write right to left – the opposite direction to English! I've lived in the UK since about 2003.

Read more

The project I work on is called InterMine. There are lots of different InterMines around the world, dedicated to biological data for different animals and plants. At Cambridge we run one called FlyMine, which has loads of info about fruit fly genes, and another one called HumanMine, which – you guessed it – has human genes in it. InterMine is designed to be used by scientists who want to look up genes and proteins for their experiments.

InterMine is an Open Source project, which means the code is available for anyone to see, change, or re-use. This is actually a load of fun – my colleagues are all around the world and re-use InterMine for their own purposes. One day I might be chatting with someone in Australia, the next day it might be someone from Japan or the Austria.

Most of the time when I'm writing code, I focus on making the bits that you look at – like graphs – or bits you might interact with – like buttons you click on. I try really hard to make things as easy to use as possible, because no-one likes it when the computer says no! My work is typically described as "front-end" or "user interface" work.

My Typical Day:

Coffee! Emails! (there are always about a million). Then I'll write code, but I actually spend a lot of time planning what I'll be writing, or discussing it with colleagues – coding isn't just about sitting and typing.

Read more

Wake up, drive partway to work then cycle or run the rest of the way. Thankfully, work has showers, so it doesn't matter if I get sweaty.

Once I get to my desk, I usually enjoy a big jug of coffee and settle down to read my emails. Because my colleagues are based all around the world, it's not unusual to get a lot of email overnight. This might be something like tech support, if someone has a problem with their InterMine and needs advice, or it could be to report a bug or to discuss a new idea or feature to implement.

Once I'm done with any urgent emails, I usually get stuck into coding. We're trying to update InterMine to look more modern, so we're re-building a lot of features from scratch. We use GitHub to store our code and co-ordinate the work.

It's also not uncommon to spend time talking about the features my team is about to implement, bouncing ideas off each other and helping each other out. I'd say that planning takes as much time or more time than actual fingers-to-keyboard writing time. While most of my team works directly on the code of InterMine, we also have a biologist who helps to make sure everything we do makes sense and will be useful for the scientists who use InterMine!

What I'd do with the prize money:

I'd like to run a blogging competition about genes and proteins, and buy nice InterMine swag as prizes! I would love to buy stuff covered in the InterMine logo to give away to people who want to know more about us, or who have contributed to the project.
My Interview

How would you describe yourself in 3 words?

Roadie for Science

What did you want to be after you left school?

In my early teens I thought I was going to be a vet, but then I realised computers were fun too!

Were you ever in trouble at school?

Yeah - I skipped class sometimes and got suspended for it once. That never made sense to me - it felt like a reward!

Who is your favourite singer or band?

Queen!

What's your favourite food?

I can't believe I'm going to say this, but... Smoked Tofu.

If you had 3 wishes for yourself what would they be? - be honest!

1. One of my cats died recently. I really miss him, and it would be great to have him back. 2. I wish uni education was cheaper. Money should never be a blocker from learning more. 3. I wish we could learn to love people who are different than us more. I had a hard time moving to the UK from abroad - it's not easy to emigrate here, at all. We need to remember that people are people no matter where they were born.

Tell us a joke.

Why are pirate pirates? Because they ARRRRRRRRRRRRRE! (groan, sorry)
---
---
---