Profile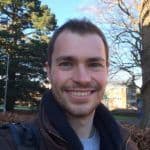 Oli Wilson
My CV
Education

Berkhamsted Collegiate School, Brasenose College, Oxford, the University of Kent, Canterbury Christ Church University, and now the University of Reading

Qualifications

11 GCSEs, A-levels in biology, chemistry, French and physics, a BA (or fake Oxford MA) in biological sciences, an MSc in ethnobotany, and a PGCE in 11-18 science.

Work History

Sky Sports for a week; the Oxford botanic garden for a month; a hospital, a health clinic, a basement in Kew Gardens, and Botanic Gardens Conservation International. Then I trained as a teacher at schools in Sittingbourne and Maidstone, before getting a job at a school in Canterbury.

Current Job

PhD student in environmental science, and graduate teaching assistant.

Employer
About Me:

I'm a full-on plant nerd who's gone from science teacher to science researcher.

Read more

…and this is how it happened.

It all started in my second week at university, when I first discovered plants could be cool. Things have just escalated from there, and now I'm particularly interested in how we can stop plant species going extinct – especially ones people use for things like food, poison, medicine and magic.

So I was already a plant geek when, one morning a few years ago, I had a brainwave on the train and signed up to climb the steepest learning curve of my life. A year later, after a lot of help and not enough sleep, I became (dun dun DUN) a *science teacher*.

I spent the next couple of years setting fire to stuff, pestering the technicians, and trying (in vain) to make physics seem as cool as biology. Eventually, though, the call of the plants was too strong, so last Christmas I left teaching and moved to Reading to start a PhD. And that's where I am now!

Away from work I love hanging out with my wife, having a lie-in, spending time in nature, playing or watching bits of sport, and laughing at or learning from books, tv programmes and podcasts.

I'm also a Christian as well as a biologist, which has led to lots of interesting conversations over the years about everything from Adam and Eve to evolution and evil. Oh, and I have a whole load of grey hair – it started changing colour when I was 16. Stupid genetics…

My Work:

I'm using fossil pollen time machines and computer models to work out the past and future of a threatened forest in Brazil.

Read more

On the highlands in southern Brazil grow weird-looking Araucaria trees. These have been around for millions of years, but so many have been cut down in the last century or so that they're now on the brink of going extinct. I want to understand their past better, and help look after them into the future.

While they might be almost gone now, we know the Araucaria forests expanded quickly around 1,000 years ago. Most people who've looked at this before think it happened because of climate change, but I'm trying to find out if people had something to do with it too.

This is where the fossil pollen time machines come in! Pollen grains are almost indestructible (although oxygen is their weakness), and they can survive for thousands of years in bogs or lake mud. If you can work out what plant the pollen's from and when it got trapped, you can see what was growing near the bog at different points in time. I'm working with pollen from places where humans lived long before Europeans arrived, to see how people affected the forests, and if they helped speed up their expansion.

To help with this, and to predict the forests' future, I'm making high definition maps and computer models of part of southern Brazil, showing in detail which areas are suitable for Araucaria trees now. These should help us work out where Araucaria forests were in the past, as well as where they might be able to hold out in the next hundred years or so. Hopefully, they'll help Brazil's government work out what areas to protect to keep the forests safe for the future, even with climate change.

My Typical Day:

Making maps and models and 3D pollen, analysing data, writing, or reading about other people's research. Sometimes just having fun talking about science!

Read more

I don't really have one single kind of typical day, though every day will involve reading and answering emails (which, unlike lots of people, I quite enjoy)!

I don't do much lab work any more, but I used to spend time there attacking bits of bog mud with chemicals, until only pollen grains are left. These chemicals include stuff that's used in school (like HCl and KOH), all the way through to hydrofluoric acid (HF). It's horrible – if it gets a chance it'll steal the calcium from your blood and bones, killing you. It also eats through glass, so – of course – we heat it up to 80-odd degrees Celsius…

Away from the lab, I download and analyse various different types of data (about the climate, the forests, the altitude etc) to make maps and models of the area. I also try to read articles from other researchers – to keep up with the latest findings, as well as to make sure I'm not copying anyone! It's a lot of computer work, but that suits me because I live 200 miles away from the lab…

Finally, I also spend time with a laser microscope scanning pollen grains so they can be 3D-printed! It's very cool…

What I'd do with the prize money:

Three words: 3D printed pollen!

Read more

If I won the £500 prize, I'd make a set of 3D printed pollen for outreach and teaching. I'd love to take the models out to schools – they could be useful in loads of different ways, from demonstrating how fossil pollen time machines work to highlighting the unseen wonders of our world. I already have a rough plan for an outreach session, and realistic (but big!) pollen grains would make it so much more interesting and fun than printouts of photos taken down a microscope lens.

Scientists in New Zealand have already worked out how to make good 3D-printed models from microscopic pollen grains, and this prize money would allow me to do the same with our pollen from South America. The money would cover the costs of preparing the pollen, using the specialist 3D microscope, and buying whatever magic plastic ink you put in a 3D printer.

I'd also love to be able to bring the models to your schools – after all, if I win it'll be thanks to you! – so if there's enough money left after I've made the pollen models I'll put it towards coming to do an outreach session chez vous 🙂
My Interview

How would you describe yourself in 3 words?

Silver-haired, smiley nature-lover (the hyphens make that ok)

What or who inspired you to follow your career?

Probably holidays in beautiful places, though a man called Timothy Walker made me realise plants are awesome

What was your favourite subject at school?

Science! French was fun too though

What did you want to be after you left school?

I wasn't 100% sure, but I knew I wanted to keep learning about science

Were you ever in trouble at school?

Not when I was a student, but sometimes when I was a teacher - not enough homework set or books marked, and too many fire alarms set off...

If you weren't doing this job, what would you choose instead?

I'd go back to being a teacher :)

Who is your favourite singer or band?

Foy Vance (singer) and Bear's Den (band)

What's your favourite food?

Peanut butter and jam sandwiches

What is the most fun thing you've done?

No idea! I've flown a helicopter, climbed a desert sand dune at sunrise, had lunch a table away from the queen - and being married/a dad is generally pretty fun too!

If you had 3 wishes for yourself what would they be? - be honest!

To be David Attenborough's apprentice, to make a positive difference to people and the environment, and to successfully balance work and home life throughout my career

Tell us a joke.

What do you call a fish with no eyes? A fsh. What about a fly with no wings? A walk. And what do you call an elephant with no ears? Anything you want - it can't hear you.
My profile link:
https://ias.im/u.156210
---
---
---