Profile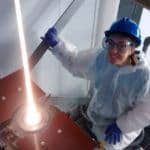 Kerrianne Harrington
My CV
Education

I actually went to over ten different schools throughout my childhood, so far too many to list! I was a sixth former at Rainham School for Girls, and did my undergraduate at the University of Bath.

Qualifications

GCSEs, A-levels, Master of Physics

Work History

Greggs, B&Q, English Language Centre

Current Job

Employer

I am a post-doctoral researcher at the University of Southampton. In my work with the Optoelectronics Research Centre, I work on airguide optical fibres called hollow core fibres. The Optoelectronics Research Centre (ORC) is one of the world's leading institutes for photonics research, based in the Zepler Institute for Photonics and Nanoelectronics, at the University of Southampton.

They have a vibrant community of researchers, led by some of the leading figures in the field of photonics, who have contributed significantly to the remarkable growth of the photonics industry, including the optical telecommunication technology that underpins the internet as well as solutions in medicine, biosciences sensing, security and manufacturing.

In recognition of their world-leading expertise in photonics and fibre optic technology, and the many decades of inspired innovation by the ORC to provide solutions for real-life problems, the University of Southampton' has been awarded a prestigious Queen's Anniversary Prize for Higher and Further Education.
About Me:

Research fellow of optical fibres. Dabble in a bit of 3D printing, science communication and roller derby, but not yet at the same time.

Read more

I am a researcher in Physics at the University of Southampton. I love to skate, play video games and sew. At the moment, especially as the skate parks and ice rinks at closed, I'm really into Animal Crossing: New Horizons (who isn't?)! When I'm not working, I can be found at the local makers club either 3D printing. Currently we are making personal protective equipment for the NHS and local care homes – we've made and delivered over 4,500 so far!

At sixth form, I studied English, Art, Physics and Maths at A-level. When choosing my A-level subjects, I was sure that I wanted to study some kind of English Literature based topic at University… Until I found I really liked Physics! More specifically, I liked being able to describe how things worked using equations.

After sixth form, I did a four year undergraduate course in Physics at the University of Bath. I really enjoyed my time studying Physics with lots of interesting new people! I decided to stay and keep learning.

Recently, I left the University of Bath to go to the University of Southampton. I joined the Airguide Photonics group which works on hollow core fibres. My work involves investigating and splicing hollow core fibres.

When I'm not hiding in a dark lab, I also love rollerskating, gaming or sewing.

My Work:

I test and splice optical fibres. Imagine tiny craft projects with hot glass and lasers! The optical fibres I use are novel because they are hollow inside. This means we can do new science like put really powerful lasers inside.

Read more

I design, modify and test optical fibres. These are thin, long strands of very pure glass, typically about the size of human hair, that guide light across extremely long distances.

I work within a team at the University of Southampton to investigate hollow core fibres and their applications. Usually, optical fibres are made of solid glass, but hollow core fibres are, well… hollow on the inside! This means their structure is almost inside out to a normal optical fibre!

My Typical Day:

Mornings do not come easily to me, so usually I stumble out of bed early like a zombie and seek some coffee. I ride my bike to work, and then discuss plans for the day with some colleagues over more coffee. Optical fibres can take many attempts to get right and so it's important the team communicates! I take new optical fibre to a dark lab and test how it works using a laser. I join solid fibres onto the ends of the hollow fibre, then take lots of measurements.

Read more

There are very different types of day I can have, depending on what type of work I need to do:

Testing optical fibre
Modifying optical fibres

Testing the optical fibre involves investigating how it is working. We need it to carry light well, so it needs to lose very little! On these days, I will spend my morning setting up the necessary equipment to do this – it can take time to look for all of the tools that I need, as expensive equipment is often shared!

Once I have the equipment I need, I will launch laser light into the fibre. This can be very fiddly, because the laser light needs to fall on the end of the very thin fibre to get inside. I have to get the most light I can into my fibre in order to test it. I use a detector or a camera to see how well the fibre carries the light.

If I want to modify optical fibres, I will use a "splicer". Cleaved ends of optical fibre are held, heated and then pushed together to form a "splice" where two parts of separated fibre are now joined together. This is really important to be able to launch into the fibre consistently and reliably, and needs to be done very carefully! Other things I might do on a splicer is to "taper" a fibre. This is when the fibre is heated and stretched. Lots of cool structures can be made with this method, that make optical fibres really powerful devices for all sorts of applications in telecommunications, biomedical fields and sensing.

What I'd do with the prize money:

I would work on building 3D printed tools for hands on science communication! I think science is the most fun when you can do something yourself, with your own hands. Often science equipment is expensive, but 3D printing is introducing loads of new and affordable opportunities for "lab on the cheap", so that practical science is more accessible for anyone!

Read more

Optical fibres are beautiful and very visually interesting to look at! We really love showing them off, but due to their small size the can be difficult. We have carefully created demonstrations, pre-recorded videos, image galleries, or very rigid models.

While these are all exciting to look at and have a conversation around, my favourite activity that I have done with the public is making a mini spectroscope to take home. Spectroscopes are tools for inspecting the different colours that make up a beam of light, which look very beautiful and are also very scientifically informative. It is important for me that the audience gets to connect with, handle, and build their own science experiments. Spectroscopes are perfect for this, but there is no reason that optical fibres can't be real hands-on experiments for general audiences too!

However, to make real imaging fibre experiments a public engagement activity, I would like to make some new experiments with 3D printed tools and raspberry pis. For example, using a 3D printed microscope, a raspberry pi camera, and some microscope lenses, we could show our real fibres in our public engagement activities. This would allow people to see, use and handle the real fibres themselves, rather than just images and demonstrations. How to build this equipment and experiment is then really easy to share, so anybody with access to a 3D printer could recreate this demonstration! Your school could easily have their own fibre optics experiment!
My Interview

How would you describe yourself in 3 words?

Ambitious glass artisan

What or who inspired you to follow your career?

Ellen Ripley. No nonsense badass.

What was your favourite subject at school?

Maths

What did you want to be after you left school?

I originally wanted to be a writer!

Were you ever in trouble at school?

Yes. I often got detention. In year 8, I only had 13% attendance!

If you weren't doing this job, what would you choose instead?

A struggling, probably unemployed, writer

Who is your favourite singer or band?

Iron Maiden

What's your favourite food?

Oranges

What is the most fun thing you've done?

Travelled around Europe with friends for two months.

If you had 3 wishes for yourself what would they be? - be honest!

Ability to pause time, never get sick, and no more sleep needed ever!

Tell us a joke.

Where does a photon on bad path end up? In a prism.
My profile link:
https://ias.im/u.156212
---
---