Profile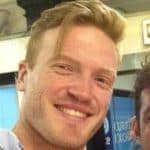 Ed Bracey
My CV
Education:

Maidstone Grammar School, UCL

Qualifications:

Bsc in biomedical science, MSc in neuroscience, PhD in neuroscience.

Work History:

Paperboy, hotel waiter, care assistant for people with dementia, French estate agent, Domino's Pizza delivery driver, several bar jobs, personal tutor, researcher at UCL, the National Institute for Medical Research, the Francis Crick Institute.

Current Job:

Senior Postdoctoral Research Associate in Neuroscience
Read more

I've always been fascinated by how our bodies and brains work. At school I liked art but also wanted to do medicine. I studied biology, French, German and chemistry at A-level. I got a place at UCL to do medicine but didn't work hard enough for my A-levels and didn't get the grades. Luckily UCL accepted me to do biomedical sciences and I worked very hard to make up for my A-level laziness!
I got a summer project in a neuroscience lab and loved it. I did a masters in neuroscience and then got accepted in to medical school later, but decided to do a PhD in neuroscience at UCL instead.

I love public engagement – talking to non-scientists about how our brains work! I like going to festivals and giving talks there, which I do a fair bit. I often work with a great company called Guerilla Science who mix art and music and science to make science (even) more interesting.

I'm also writing and drawing a comic that teaches biology as a story (helenselement.com). I'm still working on it so don't judge too harshly please!

I like art, music (I play guitar a bit) swimming, squash, going out and about in London and partying with mates.
I like films and reading, especially Sci Fi because I really like seeing what people think our future could be.

Read more

I work on mice. I change their brain circuits and see how this changes their behaviour.
We have very clever ways of turning mouse brain cells on and off. When we do this, we can see the mouse's behaviour change, so that tells us a bit about what different parts of the brain do what.

If we can understand how the brain is wired up, we can understand what's different in people that have differences in their brain, like depression, schizophrenia or ADHD.

I'm also really interested in the mistakes our brains make! Our brains are far from perfect – we forget things, make bad decisions and make assumptions about the world that aren't right. I think if people understood their own minds more, we'd be more accepting and caring of others, and get along better.

My Typical Day:

Training mice! Writing code to analyse my data. Herding PhD and Master's students.

Read more

I spend almost all my time teaching mice to do things. I give them rewards if they react the right way to a stimulus (like a moving light or a smell). If they react by licking at a little spout, I give them a reward. Most of my day is taken up doing this. I spend a fair bit of time at a computer writing code to analysing all the data from my experiments. Some days I do surgeries on the mice to put implants into their brains that let us record from brain cells or switch brain cells on and off.

What I'd do with the prize money:

Make videos about neuroscience for the public.
My Interview

How would you describe yourself in 3 words?

Big Friendly Geek

What did you want to be after you left school?

A doctor.

Were you ever in trouble at school?

I only got detention once, for coming into a lesson late and dumping my skates on the desk. We used to skip lessons to go to McDonalds and go on my mate's trampoline, but managed not to get caught.

Who is your favourite singer or band?

Lots, from pop to opera. Basement Jaxx, Major Laser, Sia, Johnny Cash, Dixie Chicks, Jimi Hendricks. Really into St Vincent at the moment.

What's your favourite food?

Pho noodle soup if I have to choose one.

If you had 3 wishes for yourself what would they be? - be honest!

I'd want to wake up in a world where all plastic was biodegradable, where we don't use fossil fuels and dump toxic chemicals and where people were less selfish and more understanding of others. Is that three?

Tell us a joke.

My brain can only seem to remember awful dad jokes. E.g. Why is your nose in the middle of your face? Because it's the scenter.
---
---
---