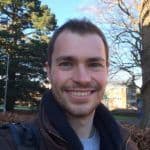 Wow, I can't believe it's all over – and I can't believe I won! Thank you so much to those who voted for me, but I really hope that all of you enjoyed that as much as I did! I honestly think that was the most fun thing I've ever done in science, and I'm gutted I won't be having any more live chats this week 🙁
I want to give a massive shout-out to the other scientists in the Neptunium Zone – I learned so much from Nina, Theo, Kerrianne, Yo and Edward, and at various times I was certain that each of them was going to win! Huge thanks too to the moderators, who all seem like lovely people and who did a great job at making the event as fun as it was.
But above all I want to thank you, the students (and teachers)! You guys really lit up the last couple of weeks for me. Your questions made me stop and think about the world, they made me reconsider some things I thought I already knew, and they helped me discover brand new things that I'd never come across before. I've come away appreciating the wonders of our planet and universe just a little bit more, and I hope you have too 🙂
Can we do it all again in a few weeks??
I hope we get to chat again some time.
Oli 🙂
P.S. If you'd be interested in having me come and visit your school with my 3D-printed pollen models, ask your teacher to let me know!
Scientists! If you'd like the chance to win funding for your own public engagement work, apply for the next I'm a Scientist, Get me out of here: imascientist.org.uk/scientist-apply